The following is a transcript of the eulogy I delivered at the Memorial Service, April 23, 2014
 Good Afternoon everyone – my name is Thomas Owen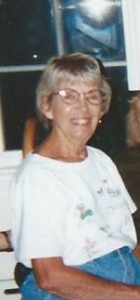 Thank you all for attending today – I realize that travel may not be convenient or  work commitments are pressing, or that you have come a considerable distance.  But for your willingness to be here today with us we are extremely grateful.
We are here today because of many reasons – we all were related to or knew Sarah in some way, or knew her children. 
What we want to share today is an understanding and knowledge of how she conducted her life, love her children her friends, and her church.
 My mother was someone that I would have been glad to know as a neighbor, proud to know as a friend, and forever thankful to know as my mother.    In my heart she had no equal.
 Her tireless caring ways helping others took her to St Josephs hospital after her own heart surgery in 1983 where she served a pink lady volunteer for many, many years.   Additionally there were many years of service delivering meals on wheels here in north Tampa and Odessa, and almost 40 years with Beta Sigma Phi involved in countless community outreach functions.

She cared deeply about her friends here in this Church, and offered her assistance to them in many ways over the years.
I was thinking of what I could tell you about what truly defined my mother and thought of the meal delivery days.    Knowing my mother it is not a surprise to me that She did not just drop off food to someone – she would stay a talk to them and help with things they needed in their home.   Maybe a chair needed to be moved, or something brought in from the garage – little things that could mean so much.
 I asked her once why she did these extra things and she replied "these people, many of them are alone and have no one else".  In my minds eye I could see People quietly waiting in their homes, enjoying their brief moment of time with her – probably much more than the meal itself.
 And speaking of the meal, a favorite joke of mine was to disguise my voice as the "agitated man" and call her on delivery day complaining that the green peas were missing from my meal.  She was always very sympathetic and always offered to bring out a replacement order.Why?  Because perhaps I was alone and had no one else.
So I think about the person needing someone and that made me realize something — my brothers and sister have never known that feeling, because we always had her.   With her in your life, even for just a brief moment, you just did not need as much.
In later years we saw the cycle reverse where she needed us – more of our time,  maybe a small job around her house, even if for a brief moment and that made me think of the question:
 What if you could have one more day with someone you just said goodbye to?
 Have you ever lost someone you love and wanted one more conversation, one more chance to make up for the time when you thought they would be here forever? Make up for the time the phone rang and you had to go, or you were in a hurry to make an appointment. 
There was always tomorrow.  I will talk to you tomorrow Mom, because tomorrow always came.
 You know, you can go your whole life collecting days, and none will outweigh the one you wish you could have again.
Why is it we must look back and wish for what might have been rather than look at today and take advantage of the time right now with our friends, our family, or those that need help?  Are we really that busy?  My mother never was.
We look around at our lives after a loved one is gone, and all we have are memories. 
But there's a story behind everything and every memory. How a picture got on a wall. How a scar got on your arm. Sometimes the stories are simple like the photo taken at a family picnic, and sometimes they are hard and heartbreaking, like the scars of war.
 But know this – behind all your stories is a story of your mother's, because one of her stories is where yours begin.
They say when you look into your mother's eyes that is the purest love you can find on this earth – I wonder why?  Is she reading you like a good book?
I like to think that My Brothers and sister were very happy stories to her, perhaps even Best sellers.
 So we hope to never hear those words. "Your mom. She died."   Because they are different than other words. They are too big to fit in your ears.  You do not want to hear them- least of all let them in.
So My mother and I laughed so many times about my prank calls and the jokes she loved to hear me tell.  She gave me my sense of humor,  I used it on her quite often, and these will be my memories.
 But as I go through my life collecting days, none will outweigh the one I wish I could have again
 I ask myself – What would I do with my day?  I would tell her:
– Thank you, for your love and understanding, your sacrifice and hard work.
– I would have her know that there is nothing on earth more beautiful than her
– I would tell her that I love you with every fiber of my being
– I would tell her "Don't worry" I will never be alone.  She will always be in my heart
– Finally, I would tell her It is ok to go now, you did a great job, and because of that, we are going to be just fine.
 I am so very thankful for her.   She showed me the important things in life, the reward for helping others less fortunate, and then her crowning achievement, introducing me to the woman who is now my wife.
Originally I thought she loved Maria because she was so afraid of me being alone, but now I realize how much of herself she saw in Maria – both women with a deep caring for others, a mission to help and serve.  Willing to give so much of themselves.
So Yes, I will miss her, but I will be forever thankful for the love of laughter she gave me, these wonderful memories, the irreplaceable stories, and the most loving wife a man could ever ask for, but importantly, a way of looking at the world that makes even a day like today something you just want to smile about. 
 A day when even with the big words manage to come into your ears and you can still go on.
So when we leave here today, let's smile and extend a hand to others.  Let's seek out those less fortunate or alone and bring something to their lives.   Let's find the time now to rejoice and enjoy our loved ones – that my friends would make Mother very happy.
 A favorite  – the Poem of Life
Life is but a stopping place,  A pause in what's to be,
A resting place along the road, to sweet eternity.
We all have different journeys, Different paths along the way,
We all were meant to learn some things, but never meant to stay…
Our destination is a place, Far greater than we know.
For some the journey's quicker, For some the journey's slow.
And when the journey finally ends, We'll claim a great reward,
And find an everlasting peace, Together with the Lord.

May God bless my Mother Sarah, and every remembrance of her.
 Thank you all again