Perry was my father, born in 1919 and died in February 1981.  He joined the Army Air Force during WWII in 1943 at 24 years old.  After training at Camp Blanding and Alamogordo AB, New Mexico,he was assigned to the 454th Bomb Group, 738th Bomb Squadron.
He was Waist Gunner aboard a B-24 Liberator like the one shown here: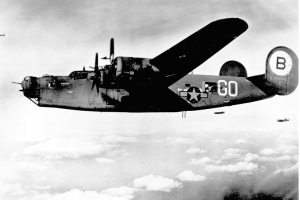 You see the small window just forward of the word 'GO' toward the rear?  That is the Waist Gunner position.
He was stationed in Italy at San Giovanni Field.  On April 2, 1945 they left on a bombing mission to Austria, but early in the flight the #2 engine exploded causing a massive fire in the bomb bay.
The plane was ditched in the Adriatic Sea and the survivors (only 4) were picked up within an hour.
My father was hospitalized for quite some time but did indeed make a complete recovery.
The Accident Report or MACR:          The Co-Pilot Accident Statement:
Crash site, Adriatic Sea:              Site of San Giovanni Field today (note faint markings):